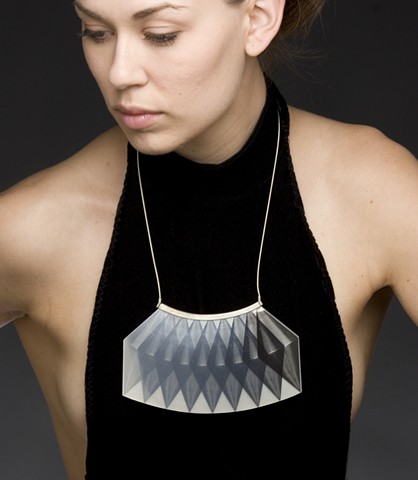 body in motion: study 3
sterling silver, 18k gold, transparency film. . 6" x 3 1/4" x 1/8"
photographed by Tom McInvaille
2007
As an artist working with adornment, I am particularly interested in the relationship between object and wearer. In my jewelry I explore the creation of self-awareness and the formation of intimate physical understandings of the body.
The first pieces in this series engage the visual problem of capturing movement in a static object. By referencing artistic depictions of the body in motion from the late 19th and early 20th centuries, I attempt to think through the relationship between the study of movement and the study of time. References in this series focus on the photographic research of Etienne-Jules Marey and Eadweard Muybridge, and the artwork of the Italian Futurist and contemporary jewelry artists such as Joan Parcher and Rachelle Thiewes.