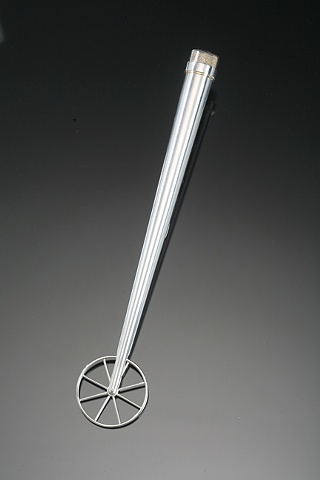 Wheel/Perambulator (Torah pointer)
sterling silver, 18k gold, sand, glass; 8 3/4" x 1 1/2" x 3/4"
photographed by Doug Yaple
2009
This Torah pointer has a working wheel for the pointer and encased sand on the opposite end. The wheel pointer of this yad can be interpreted as a metaphorical connection to the Jewish people's early forced nomadic life or any of the other exiles that have been endured throughout Jewish history. It can also symbolize a surveyor's wheel in reference to the use of the Torah in the current territory disputes in Israel.
This work was made possible by a grant from the Idaho Commission on the Arts, funded by the National Endowment for the Arts.