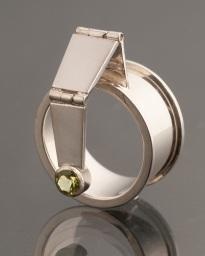 body in motion: play (ring 1)
sterling silver, peridot; 2 1/8" x 3/4" x 3/8"
photographed by Tom Wagener
2007
As an artist working with adornment, I am particularly interested in the relationship between object and wearer. In my jewelry I explore the creation of self-awareness and the formation of intimate physical understandings of the body. The rings in the body in motion: play series accentuate the movement of the hand, creating self-awareness through play.