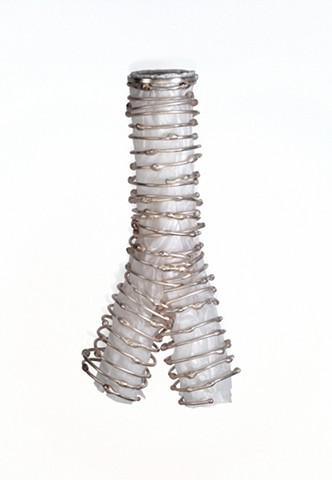 breathe 3
sterling silver, repurposed plastic grocery bags; 4" x 2 1/4" x 1"
photographed by Doug Yaple
2012
As an artist working with adornment, I am particularly interested in the relationship between object and wearer. In my jewelry I explore the creation of self-awareness and the transformation of intimate physical understandings of the body.
Is it possible to evoke the act of breathing in a static object through material choices? How might this tune the wearer into the power of their breath? This group of wearable objects explores these and other questions about the body in motion, and the intimate and personal interaction between the wearer and the object.
This work was made possible by a Fellowship from the Boise State University Arts and Humanities Institute.