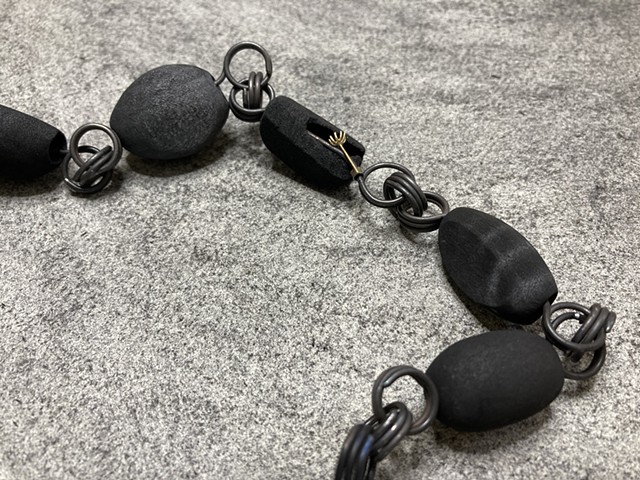 Meditations: A Collaborative Project (1); beads after being worked with
charcoal, steel, patinated copper, 18k gold, sterling silver
2020
Meditations:
A Collaborative Project
Creating artwork during the COVID19 Pandemic has been scattered with so many new demands on our time with work and family. With physical distancing a necessity to navigating our current reality, collaboration to move forward with hope and healing feels essential. Each strand of beads will pass from artist to artist, allowing each to create until the charcoal has transferred from the beads to their creations, revealing hidden seeds and objects inside each bead. The process of working with the beads leaves both a visible physical and an emotional mental record of the interaction on the makers. Through meditation and collaboration, seeds of hope and healing can be found.
The first strand of meditation beads I created has thirteen charcoal beads held together with steel wire with gold dandelion seeds inside the beads that only reveal their existence after the charcoal has been used. The "tassel" has five patinated copper dandelion leaves. This first strand of beads has begun its collaborative journey, so far joining five artists. The artists that have interacted with this strand of meditation beads: Kirsten Furlong, Erin Cunningham, April VanDeGrift, Garth Claasen, Michael Cordell.
Kirsten Furlong worked with the beads, creating several abstract drawings and a detailed drawing of dandelions (12" diameter, charcoal on paper). Kirsten passed this strand of meditation beads on to Erin Cunningham who created two experimental drawings influenced by images of how COVID19 affects the lungs. This strand of beads will continue to be passed on to other artists, as we continue to meditate, pray, worry, and heal.
More objects for this project are in the works, and once completed will be given to other communities of artists across the counntry to interact with. Each artist is asked to pass the strand on to another artist. Each strand of beads will hold different symbols and objects, some fabricated or cast precious metal objects, some found objects. It is my hope that through these objects, this project will bring people and communities together in a meaningful way. I envision this as a large project with many artists joining together to create one collective collaborative work.
Photograph by Kirsten Furlong