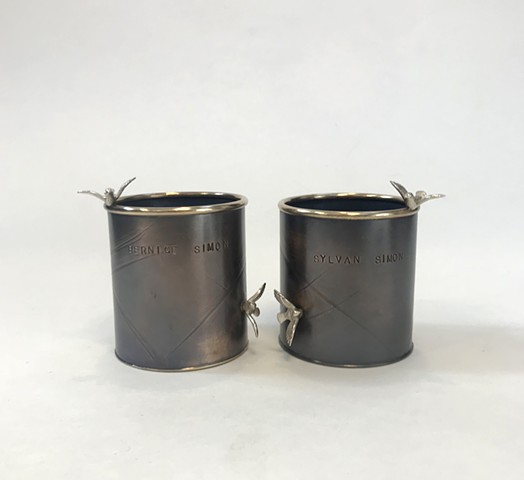 Yahrzeit Candleholders for Bernice and Sylvan Simon
bronze, sterling silver
2 3/4" x 2 1/4" x 2 1/4" each
October 27, 2020
Today we remember the 11 victims of the Pittsburg Tree of Life Congregation whose lives were taken 2 years ago on October 27, 2018.
Joyce Feinberg
Richard Gottfried
Rose Mallinger
Jerry Rabinowitz
Daniel Stein
Melvin Wax
Irving Younger
Cecil Rosenthal
David Rosenthal
Bernice Simon
Sylvan Simon
I did not know them, but their murders shook my core. Anti-Semitism, hate and divisive rhetoric continue to grow in our country. When this massacre occurred in 2018, I was in the midst of preparing a cylinder demonstration for my advanced students. Two cylinders turned into 11 yahrzeit candles - donated to the Tree of Life Congregation who plan to give them to the families of those that lost their lives.
May their memories always be a blessing.