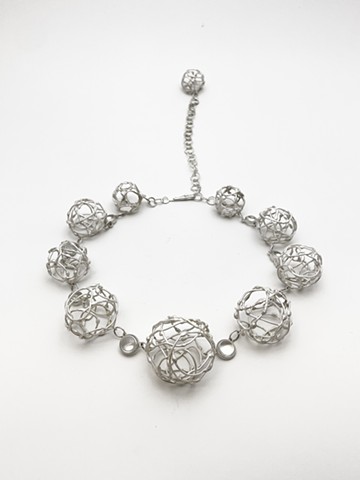 Anika Smulovitz's scholarly and artistic work draws on the rich history of the field of Art Jewelry & Metalsmithing. Her work confronts the concepts of power, beauty, and cultural values, while bringing insight to the discourse between material culture and contemporary society. Smulovitz's current research is focused on the body, loss of innocence, as well as, social activism and ritual. Smulovitz hold a US Design Patent for her Lip Liners.
Smulovitz uses Harmony Recycled silver and gold from Hoover & Strong, Fairmined Gems, thrift store finds, and antiques/inherited items in her artwork. She is committed to utilizing ethically sourced materials that minimize her impact on the environment.
Anika Smulovitz is an artist, metalsmith, and Professor of Art at Boise State University. Smulovitz' work is exhibited nationally and internationally, and appears in numerous publications. Her work is also included in the permanent collection of The Jewish Museum, New York, NY. In 2018, Smulovitz received the prestigious honor of become an Idaho Arts Commission Fellow and being juried in as an Artisan Member of the Society of American Silversmiths. Smulovitz served as a member of the Board of Directors of the Society of North American Goldsmiths and was the Board Liaison for the Editorial Advisory Committee for Metalsmith magazine for three years (2009-2012). She received her MFA (2003) and MA (2001) from the University of Wisconsin-Madison, and her BFA from the University of Oregon (1997).